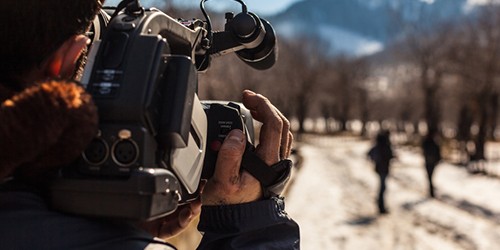 The IPG Group has produced more than thousand hours of live sporting events in the past.

Our TV Production experience spans over years and has grown from strength to strength with each passing year. Today we are acclaimed as a key global player in the field of Television Broadcast productions of Sporting Events.

Our strategic value is representative of our name by offering innovative and unrivalled live production services to cater for any live sporting event around the world.

We understand that clients require resources which are responsive to critical delivery of live sporting events, so our new global Footprint allows us to manage and deploy live production teams in the right place, at the right time and in the appropriate language.

Our technical, production, graphics and equipment partners are the biggest and most renowned names in their respective specialties.

At core our combined operational capabilities are now amplified to offer
Unrivalled live TV production execution branded studio and programming content
Crafting unique sporting assets in addition to cricket and soccer
TV Production of Documentaries, Commercials and Entertainment
We are able to offer a 360-degree live broadcast solution.
KEY CRICKET PRODUCTIONS 2015-2020
OUR PRODUCTIONS OF INTERNATIONAL CRICKET MEN TOURS
Nidahas Trophy - IND-SL-BAN T20 Tri-Nation Series 2018
India Tour of Ireland 2018
India Tour of Zimbabwe 2016
Ireland - West Indies - Bangladesh Tri Nation Series 2019
England Tour of Ireland 2019
Bangladesh vs Pakistan T20 Test Series 2020.
Sri Lanka Pakistan T20-ODI Series 2019
Sri Lanka Pakistan Test Series 2019
Zimbabwe vs Pakistan 2018
Tri Nation Series Zimbabwe Australia Pakistan 2018
Scotland FTP 2018
Afghanistan Tour of Ireland 2018
Ireland FTP 2018
West Indies Tour of Zimbabwe 2017
Sri Lanka Tour of Zimbabwe 2016
New Zealand Tour of Zimbabwe 2016
Afghanistan Tour of Zimbabwe 2015
KEY CRICKET LEAGUES & CRICKET PRODUCTIONS
UAE T10 League 2018
Abu Dhabi T10 2019
Mzansi Super League 2018, 2019 (Official T20 League of South Africa)
Pakistan Super League 2019
Caribbean Premier League 2018 (O/S)
Caribbean Premier League 2017 (O/S)
World XI vs Pakistan, 2017 - 3 T20s
PSL 2018 (O/S)
PSL 2017 finals
Indian Junior Players League, 2017
Masters Champions League, UAE
England Women vs Pakistan Women T20/ODI Series
Australia Women vs Pakistan Women T20/ODI Series
ICC T20 World Cup, 2016 - Radio Production
ICC T20 World Cup - Studio Show
Asia Cup U19 – Malaysia 2017
Women's Asia Cup Cricket Finals 2016
Asian Cricket Council Emerging Teams Under 19 – 2018
Asia Cup U19 Final 2019,
Asia Cup Women's Final, 2018
South Africa vs Pakistan ODI-T20-Test 2018-2019 Studio Show for Ten Sports.
NON CRICKETING EVENTS
FIH Hockey Events
Hockey World Cup
Champions Trophy Hockey
Hockey World League
Football
AFC Qualification Matches
I-league
Champions League (Football) - Studio Show
Golf
MENA Golf Tour
Indian Open - PGTI
International Truck Racing
Short Commercials
Magazine Shows
Studio Shows