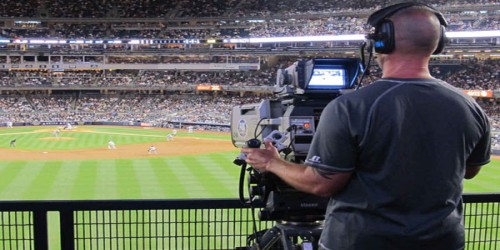 The IPG Group is a leading independent sports broadcast production company with more than 10000 hours of live broadcasts to its credit. IPG has provided host broadcast services to clients around the world and is today a leading player in the field of sports and live TV productions. We are able to offer a 360-degree live broadcast solution.

We understand that clients require resources in the market which are responsive to critical delivery of live sporting events so our new global footprint allows us to manage and deploy live production in the right place, at the right time and in the appropriate language. We are able to offer a 360-degree live broadcast solution.

At core our combined operational capabilities are now amplified to offer: Experience, innovation, reliability and quality. That's what our clients will be assured of if you choose IPG to be your broadcast production partner for your sports and events.

Above all, "partnership" is the key to our approach. We pride ourselves in building strong relationships with all our clients. We always go the extra mile to understand exactly what it is our partners want, aligning our goals and targets with theirs.

Ours is always a collaborative approach and it is this kind of client focused attitude you can expect from IPG. We'll have no agenda of our own. We'll produce the best possible coverage of the tournaments, according to client guidelines but with the interests of all key partners and stakeholders to that tournament firmly in mind.

The coverage will be produced with the unique creative and innovative approach that is part of our DNA. It's an approach that has been at the heart of every sport we undertake.

A safe and experienced pair of hands to provide the clients with the comfort of a collaborative production partner, also editorial credibility combined with innovation.

An enhanced service for International Broadcasters to ensure their requirements is fully met.

Our goodwill in the industry is an excellent appreciation of both sides of a host broadcast operation, gained from experience of staging large-scale international host broadcasts, as an involvement in sports broadcasting for over 20 years as:
Host broadcaster
Producer of bespoke coverage for TV networks such as Star Sports, Sony TV, Ten Sports and many other international Networks
Individuals in key producing, directing and production management freelance roles
Cricket
IPG is most well known for its cricket broadcasts and has over the years produced International Cricket involving most Test playing nations as well as matches involving many of the ICC's & ACC's Associate & Affiliate members and major cricket Leagues.

Our team will come together to transform the quality of host broadcast services provided at your cricket events, implementing a new and special approach to serving domestic and international broadcasters that reflects an international status for each broadcasts we do.
Our live coverage will be comprehensive and entertaining, fully reflecting the spirit of cricket and in particular for the passionate domestic cricket fan base watching at home.

A World class, talented and experienced production team, positively supporting the clients in their aim to grow the sport of Cricket globally

Social media positioned at the heart of the world feed production

Production which makes cricket more accessible to younger fans and the casual audience

Familiarity with the Boards, International & Domestic broadcasters, the venues & local suppliers

One of the respected production companies in the world with an unparalleled reputation for the creative delivery of major cricketing events
Football
IPG Group has wide experience in producing unique sporting asset football.

Our core team has experience of producing football. Our core team has produced AFC Qualification Matches, I-league, Champions League (Football) - Studio Show etc.

We are offering world class broadcast production for football leagues and federations to augment their sports offering.
Live broadcast production with latest professional sports cameras
Enhanced with slow-motion instant replays
Advanced graphics and AR/VR
FIFA-inspected Video Assistant Referee (VAR) technology for football leagues and federations around the world. Interactive online VAR training portal transforms the critical challenge of referee training.
Customizable branded apps for the distribution of both live and VOD content. Drive new revenues through fan subscriptions and pay-per-view.
Providing real-time data on performance, tactical developments and games statistics. Developer kit with a marketplace of analysis tools and applications.
Experienced and world renowned football directors will be at the helm of our broadcast assisted by skilled producers, well equipped cameraman, EVS operators and Engineers
Renowned football commentators in all languages
Hockey
We produced and delivered various hockey tournaments including Hockey World Cup, Champions Trophy Hockey and Hockey World League.

We are able to provide great content and production for any hockey tournaments or leagues, a suite of services to capture, enhance and distribute content - anytime, anywhere.
Badminton is the fastest racket game in the world, also one of the favorite and growing sports of the world. Badminton is gaining more and more air time within the different sports in this century.

Our core team has experience of crafting great content for badminton tournaments like Yonex Sunrise India Open – Badminton etc.

We will be able to produce broadcast the Badminton tournaments with more dynamism, enthusiasm, energy and vibrancy for the clients and viewers.
Golf is a premier and interesting sport among the others, also a versatile game.

Whilst it's not the most physically demanding sport out there, golfers walk over six miles on an average 18-hole round. That's up hill, downhill, on sand, in thick rough and through all sorts of different terrains.

IPG's core team also having great knowledge of producing this sport for our clients.

Our core team has led various broadcast production of golf tournaments like Indian Open – PGTI, MENA Golf Tour etc.
Motorsport
IPG's team has vast experience of producing several motorsports in the past years.

Our core team was behind the production of International Truck Racing for Ten Sports

We will be able to provide the whole broadcast solutions for all motorsport variations include auto car racing, motor rallying, motorcycle racing, air racing, kart racing, boat racing, hovercraft racing, lawn mower racing, snowmobile racing, and truck racing.
Basketball
Undoubtedly this sport is one of the best sports in the world.

Organizations and associations of basketball are setting up the brand rules which make this sport much more interesting to watch.

IPG will be using very innovative production technologies, methods and providing creative content for the broadcast of Basketball which will make this sport more interesting to the worldwide basketball fans.
Volleyball
Volleyball is one of the favourite and thrilling sports in the world. It remains a hugely popular Sport globally.

Connecting fans and clients to the greatest sports events, IPG offers everything for the events or its commercial partners need to be successful.

We can tackle any broadcast challenge with the high broadcast standards across the world using innovative broadcast solutions and cutting-edge media production techniques.

Sports broadcast production is in our DNA – this extension provides us with an opportunity to strengthen this exciting sport in its all facets for fans and partners across the globe.
Tennis
Tennis has the most variety of all sports. It has speed, strength, agility, touch, tactics, a strong mental game, fast reaction, patience, power, and much more.

IPG can produce and recreate the tennis game anywhere in the world for the viewers to the display the grace, skill, strength, courage and stamina involved in every set, multiple times.